Máy trạm Dell Precision Tower 7820 Workstation - Cổ máy lý tưởng để chạy VFX hay render
Trước tiên, Công Ty Dell Việt Nam và Máy Chủ Mạng mong muốn bày tỏ lời cảm ơn chân thành đến quý khách hàng đã và đang đồng hành, ủng hộ sản phẩm Dell trong thời gian qua. Nhằm tri ân khách hàng, Máy Chủ Mạng và Dell đưa ra chương trình " Mua máy trạm Dell Precision Tower 7820 Workstation tặng ngay bao lì xì 3 triệu ".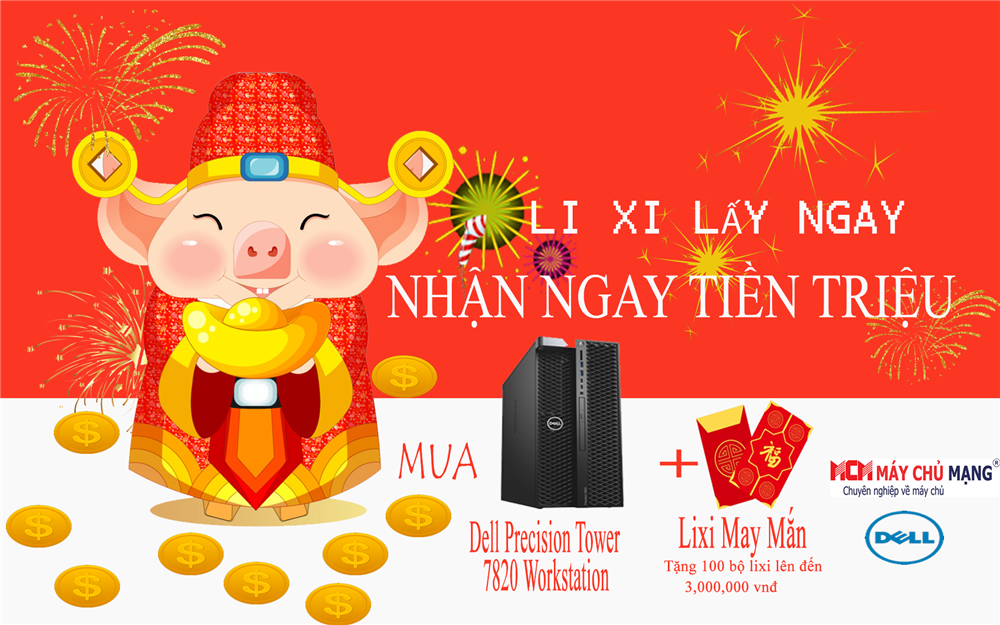 Chương trình áp dụng cho các dòng máy trạm Dell Precision Tower 7820 Workstation ( Intel® Xeon® Silver 4110 ; Intel® Xeon® Silver 4114 ; Intel® Xeon® Silver 4116 Processor ; Intel® Xeon® Gold 5120 Processor ; Intel® Xeon® Gold 6132 ) từ ngày 01/01/2019 đến ngày 31/01/2019 ( Áp dụng cho khách hàng sử dụng )
Đánh giá máy trạm Dell Precision Tower 7820 Workstation

Operating System
Available with Windows 10 Pro - for a smooth, versatile PC experience.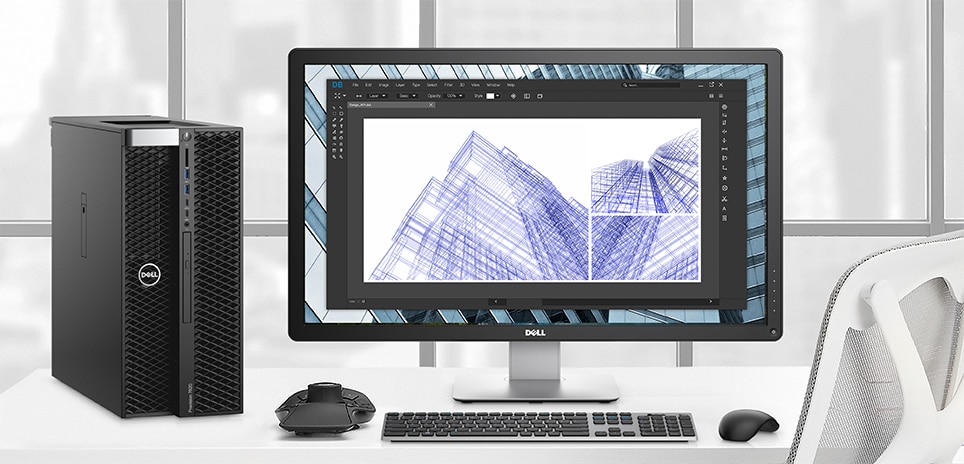 Blazing fast performance
Brainpower that matches yours: The latest Intel® Xeon® processor Scalable Family powers your most demanding applications. Now featuring a new generation of dual-socket architecture with up to 28 cores per processor (or up to 56 cores when built with dual processors) so you can extract maximum performance for your greatest vision.

Accelerate every project: Run your software as fast as possible and get real-time results thanks to this memory expandable machine with up to 384GB of faster 2666 MHz RDIMM memory.

Drown out distraction: Focus on your tasks with the workstation that's quieter than ever. A new multichannel thermal design delivers advanced cooling and acoustics for enhanced cooling and quiet operation when your system is under heavy workloads.

Built for your future
Your Precision 7820 Tower grows with your ideas no matter where they take you, thanks to a new chassis that combines a versatile design with exceptional storage scalability.

Adapts to your innovations: Your Precision 7820 Tower is ready for complex projects, including virtual reality workflows, with the next generation AMD Radeon Pro™ and highest-performing NVIDIA Quadro® graphics. Your workstation supports up to 500W of graphics power and future graphics options up to 250W per card (single CPU system with 950W PSU).

Fine tune audio and video: Effortlessly command your audio and video needs with an optional Dell Professional Audio Interface module capable of handling professional applications.

No project is too big: Up to six 2.5" or five 3.5" drives and front access storage including SATA, SAS and PCIe M.2/U.2 NVMe SSD can be configured for up to 68TB total storage and easily swapped. With the hot-swap feature on the M.2 and U.2 PCIe NVMe SSDs, you can remove drives without shutting down the workstation. Enable increased storage performance with the optional U.2 Intel® Optane™ SSD 905P Solid State Drives.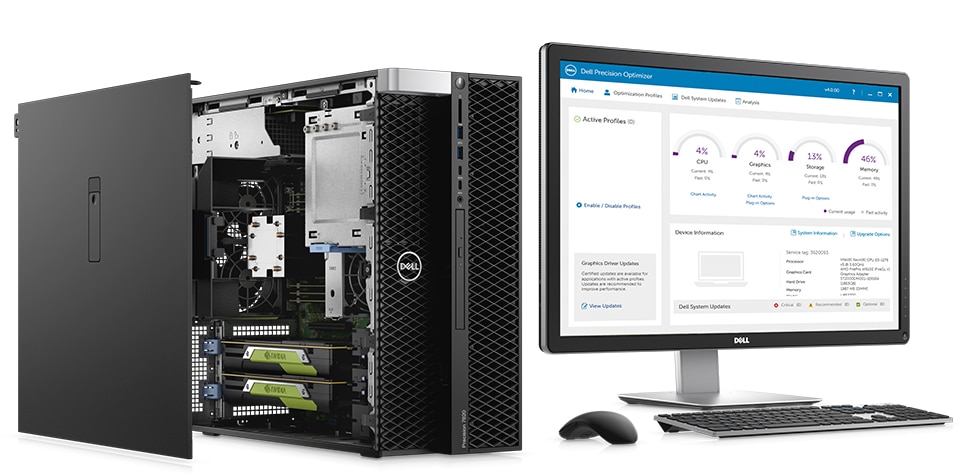 Tuned performance
Free with your Precision workstation, the Dell Precision Optimizer takes the guesswork out of customizing settings and automatically tunes your workstation to run the most popular Independent Software Vendor (ISV) applications at the fastest speeds possible. Featuring centralized management with Microsoft SCCM and KACE, simplified systems management to improve system reliability, detailed analytics and smart notifications to proactively address resource bottlenecks, certified graphics drivers downloads and Radeon ProRender ray-tracing plug-ins to render stunningly photorealistic images ― all in an elegant, new UI .
Reliability where it matters most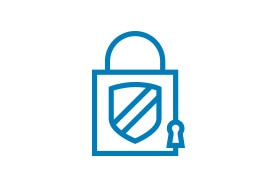 Stay safe, stay secure
Reduce downtime with Dell Reliable Memory Technology (RMT) Pro. Designed to work with ECC memory, RMT protects your machine from potential crashes by mapping out bad memory locations after the system reboots.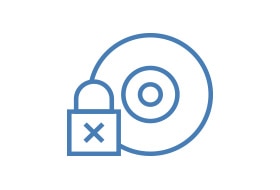 Reliably access your data
Improve the availability of your data with hardware and software optional RAID storage options including PCIe NVMe SSDs and optional Smart Card (CAC/PIV) readers that let you determine who can access your system.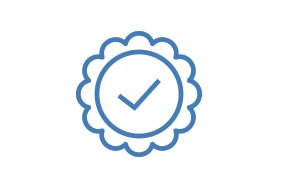 Your work can count on it
Precision Workstations are tested to ensure the high-performance applications you rely on every day run smoothly. Dell ISV-certifications cover the most popular independent software applications.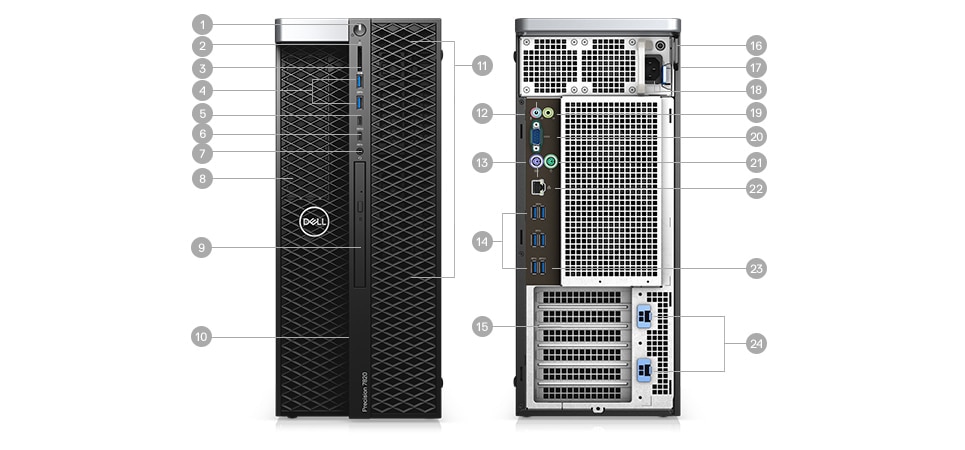 Ports & Slots
1. Power button/Power light | 2. Drive activity light | 3. SD card slot | 4. USB 3.0 ports | 5. USB 3.0 Type-C port with PowerShare | 6. USB 3.0 Type-C port | 7. Headset port | 8. 5.25 inch bay (optional) | 9. Optical drive | 10. Drive access release latch | 11. Drive carriers | 12. Microphone/Line-in port | 13. PS/2 Mouse port | 14. USB 3.0 ports | 15. Discrete graphics card slot (optional) | 16. Padlock ring | 17. Security cable slot | 18. Power cable connector | 19. Line-out port | 20. Serial port | 21. PS/2 Keyboard port | 22. Network port | 23. USB 3.0 port (supports smart Power-On) | 24. Expansion card slots

Dimensions & Weight
1. Height: 417.9 mm (16.45") | 2. Width: 176.5 mm (6.95") | 3. Depth: 518.3 mm (20.41"). Optional 19" rackmount rail kit.
Starting weight: 35.1 lb (15.9kg)
CÔNG TY CP CÔNG NGHỆ MÁY CHỦ MẠNG